Fairest Creature is a showcase for the prowess of four master winemakers. Thomas Rivers Brown, Philippe Melka, and Benoit Touquette each vinify a distinctive expression of Cabernet Sauvignon grapes sourced from the Napa Valley's finest vineyards. These bottlings are entitled "Perihelios," "Polyspline," and "Sine Fine." In addition, Michel Rolland creates "Triniceros," a master blend of the three. This unique project references Chinese mythological figures, which are represented through exquisite scratchboard illustrations.
The Challenge
Present a clean, classic, understated design
Make an immediate impression with the home page
Guide visitors through intuitive, user-friendly navigation
Promote mailing list signups and online purchases
Connect with consumers and inform media
Educate about the outstanding lineup of winemakers
Tell the stories of the mythical "fairest creatures" and connect these stories with the wines
Demonstrate the rarity of the wines and the sophistication of the project
Testimonial
Working with Vin has been great! They maintained prompt and clear communication at all times. The team at Vin actively encouraged feedback and revisions throughout, making the crafting of our site a symbiotic, collaborative, results-driven creative process. Additionally, when the time came to switch to Commerce7, they handled the migration seamlessly.
— Yvette Zhang, Director of Operations, Fairest Creature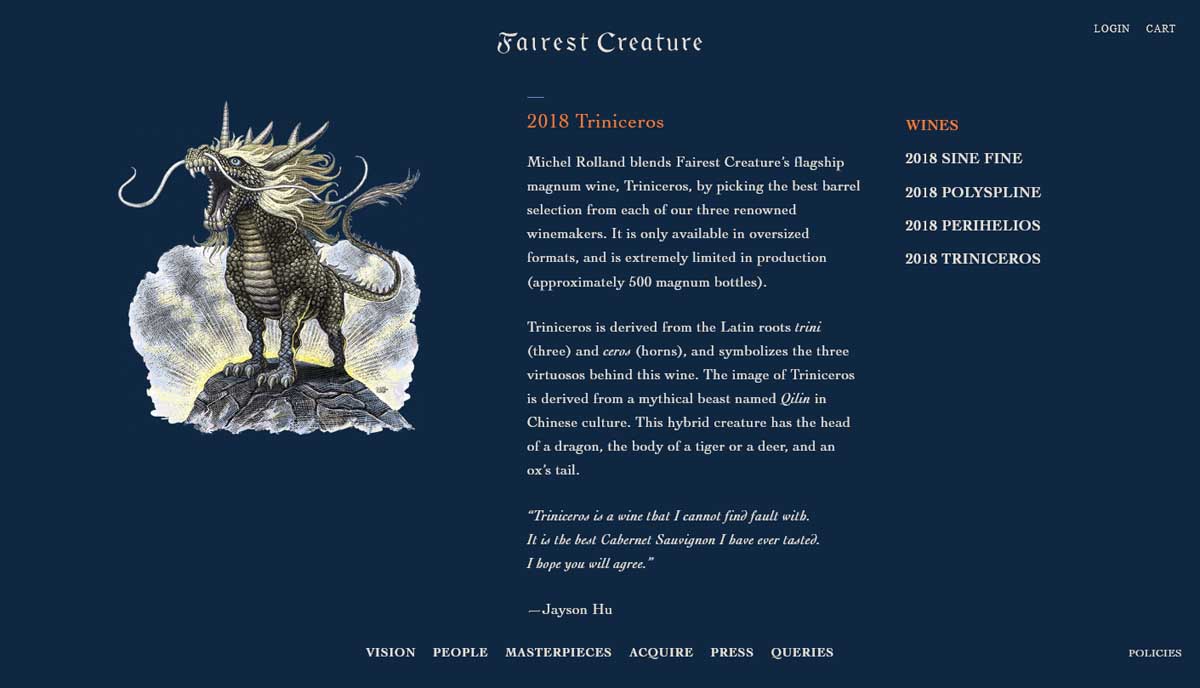 ---
---
---